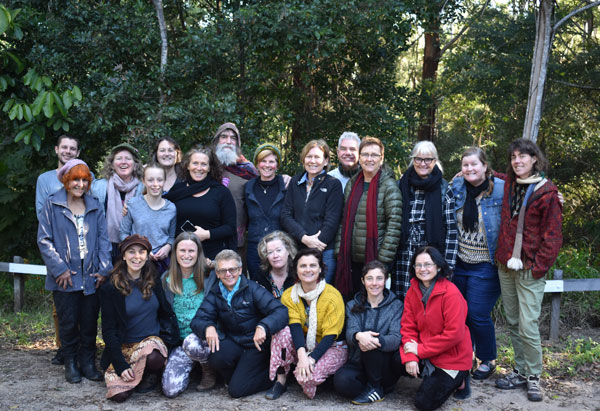 Hello Earth Arts community!
From all of us at AELA we'd like to wish you a happy holiday season, a Merry Christmas, and a Happy New Year!
It has been an exciting and eventful year for AELA with our Earth Arts program taking centre stage during the 2018 Rights of Nature Australia "RONA18" week, from October 23 – 28, in Brisbane.
As part of the RONA18 week, the RONA18 National Exhibition, curated by our Earth Arts Curator, Jenny Brown, saw works by members of AELA's Earth Arts Collective presented in the Spring Hill Reservoir in Brisbane City. The subterranean, heritage venue provided a range of logistical challenges, but rewarded us with a unique and atmospheric space to showcase the Collective's artworks and to host several other RONA18 events amidst the art.
The National Exhibition was held in conjunction with the 2018 Australian Peoples' Tribunal for Community and Nature's Rights, held on Saturday October 27th. This year's Tribunal session focused on the impacts of industrial scale agriculture on communities and the environment, and provided an opportunity for First Nations Peoples, community members, scientists and lawyers to table these impacts within a civil society forum.
Further afield from Brisbane, RONA18 Responses were underway during the month of October and on the day of the Australian Peoples' Tribunal. In Cairns, the Sunshine Coast, Sydney, and Lismore, wonderful folk were engaging in art-making and exhibitions, conversation, markets, and festivities focusing on our relationships with the living world.
Earlier in the year, in June, we held the "RONA18 Creatives Collaborative Retreat" at the beautiful Chenrezig Institute in the Sunshine Coast. Twenty-four artists, creatives, creative thinkers and doers, and artists-at-heart spent three days in the Sunshine Coast hinterland exploring connections (and disconnections!) between the arts, sciences, food, earth laws and First Peoples' laws.
2019 looks set to be a year of nourishing and further developing ideas and connections as we build our plans for RONA 2020! Planning is underway, and we will have an update on themes, dates, and participation in March 2019.
A huge 'thank you' to everyone who has engaged with AELA's Earth Arts program this past year. We are delighted to be connecting with artists and creatives who are challenging and re-thinking our relationships with the planet and all of its inhabitants, human and non-human. And a big 'thank you' to our Earth Arts Curator, Jenny Brown, for bringing together the 2018 National Exhibition.
We look forward to connecting in 2019 and seeing what the year brings!
Best wishes,
James K Lee
Program Manager
Australian Earth Laws Alliance
13 December 2018