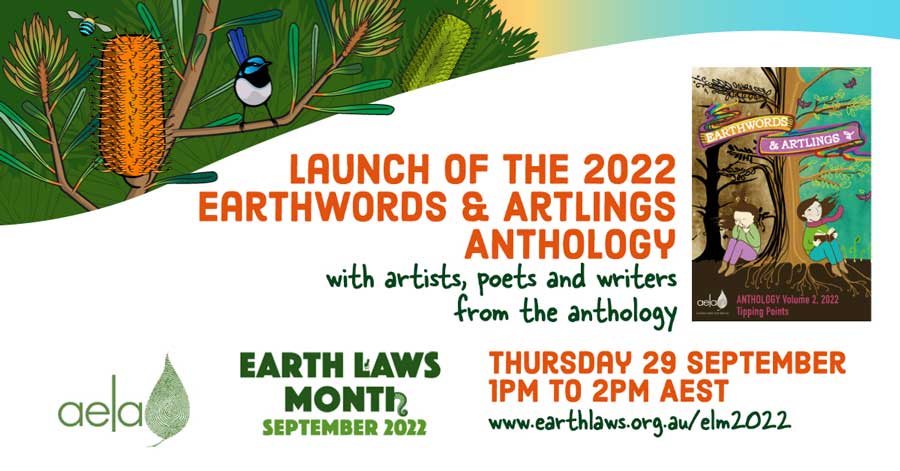 Please join us to celebrate the launch of AELA's second Earthwords and Artlings Anthology: "Tipping Points"
The Australian Earth Laws Alliance (AELA) believes that cultural change is a vital part of building Earth centred law, governance and ethics. To explore and recognise the role of creativity and cultural expression in supporting humanity's connection to, and care for, the living world, AELA hosts an 'Earth Arts Program', which features art exhibitions, creative writing anthologies, acoustic ecology projects and much more.
Join us on 29 September from 1pm to 2pm AEST (Brisbane time), to celebrate the beautiful poetry, stories, photographs and images that make up "Tipping Points"
OUR SPEAKERS INCLUDE:
Marian Drew – renowned and respected Australian photographer
Andrew Skeoch – nature sound recording expert and artist
Merete Megarrity – sculptor and creative force
James Lee – creative coordinator for the AELA Earth Arts Program
And more speakers to be announced!
ABOUT EARTH LAWS MONTH
The Australian Earth Laws Alliance (AELA) is hosting a huge month of events throughout September – webinars, public lectures, workshops, virtual art exhibitions and more – to explore and celebrate our relationship with the living world. To find out about all our events, please visit: www.earthlaws.org.au/elm2022
ABOUT AELA
The Australian Earth Laws Alliance is a not-for-profit organisation dedicated to creating Earth-centred systems change, by increasing the understanding and practical implementation of Earth-centred governance. Our programs include a focus on law, economics, education, ethics, Indigenous knowledge systems and the arts.
For more information, please visit our website: www.earthlaws.org.au