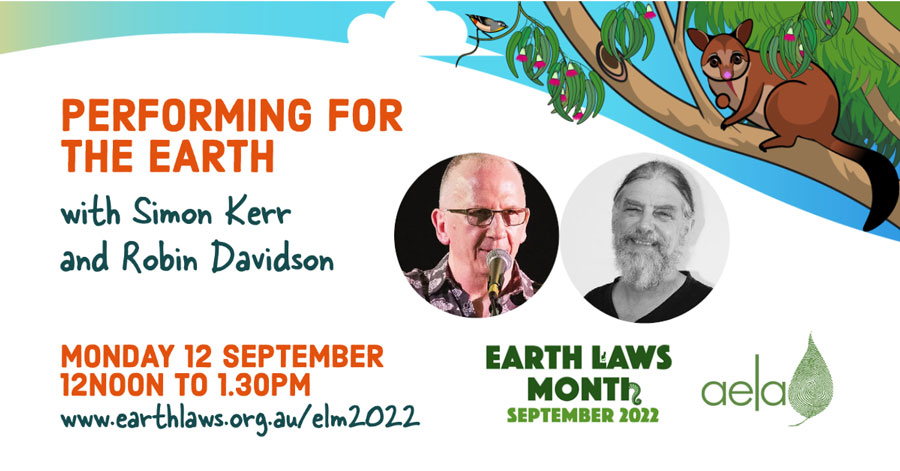 Please join us for a fascinating discussion with Simon Kerr and Robin Davidson, about how the performing arts can stimulate, educate, provoke and support our connection to our planet, and to Earth-centred ideas and issues.
ABOUT OUR WEBINAR
In our webinar, Simon and Robin will share stories from their own experiences 'performing for the Earth', and share their insights into the processes involved with creating performances and ideas that can help us think, feel and care about the living world and each other.
ABOUT OUR SPEAKERS
SIMON KERR – Simon is a musician, scientist and the driving force of the performing group – "Music for a Warming World". He is a communicator, able to translate the science and politics of climate change into music. Much of his songwriting over the years has addressed the challenges of living sustainably and well on a crowded planet. He also a written songs on many other topics, such a his infamous 'Zombie Bride Trilogy'. Simon has had a long history working on the challenges of climate change. He taught environmental policy at Lincoln University in New Zealand for a number of years, and has a Masters of Applied Science in Environmental Management and a PhD in Political Ecology. He also has extensive research development experience at the University of Otago, The University of Melbourne and La Trobe University and is currently an Honorary Research Fellow at La Trobe and Engagement Lead an a 4 year Commonwealth Funded $12m Water and Environment Research Program on the Murray Darling Basin. In 2019 he attended the first Artists and Climate Change Incubator in Anchorage.
ROBIN DAVIDSON – Robin is the founding director of Rebus Theatre, a Canberra-based mixed ability theatre for social change. He is an actor, clown, director, teacher and writer. Robin works in applied theatre, devising theatre with communities, including five years as founding artistic director of Hidden Corners Theatre, a company for young carers (young people who have a family member with a disability), seven years as director of Imperfectly Sane Productions, the Mental Health Foundation ACT's theatre company, and fifteen years as a founding member of Canberra Playback Theatre. He has taught in East Timor, Indonesia, Thailand and Sri Lanka. He was co-awarded the 2005 Media Entertainment and Arts Alliance ACT Green Room Award for services to community theatre. He also performs, directs and teaches clown and Commedia dell'Arte, including having performed in Nara, Japan and at the Sydney Olympic and Paralympic Games.