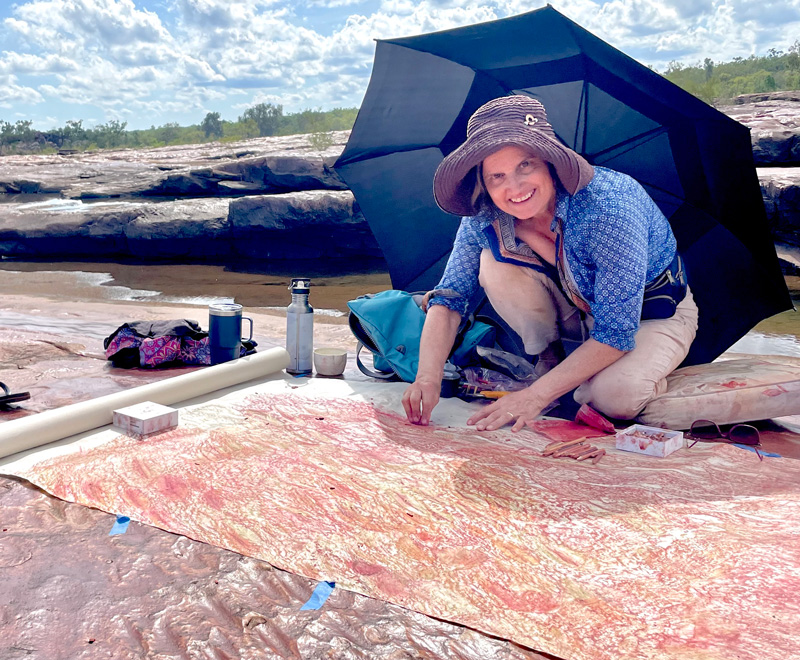 Jude Roberts
Jude Taggart Roberts is a visual artist and facilitator of arts related projects. Her work focus's on landscapes that we cannot visibly experience, in particular the Great Artesian Basin. The work is created using a variety of media often on paper, to reveal the hidden interrelationships and histories of the watersheds, artesian basins and springs. Through researching drawing and print media methods as well as connecting with river communities, the artist's practice addresses issues about water, land and the finite sources of the artesian basins.
Jude has held exhibitions locally and internationally including Decennium, Grey Street Galleries Brisbane 2021, Drawn, curated by A. O'Rourke, N. Wood, Redland Gallery, 2021 , Outland in collaboration with Tarn McLean, Alexander Lawson Gallery, Toowoomba 2020, Chain of Ponds, Blindside Artspace, Collaboration with artist Helen Hardess, Melbourne, 2019 Kedumba Drawing Award 2013, Body Politic, The Crane Arts Centre, Philadelphia 2015. Co-curated by Richard Hricko and Amze Emmons. She has participated in projects such as One River arts project, Canberra, 2013, and co facilitated projects such as 'ngulalma ngalinda Because of her we can, Mitchell, 2018 with Saraeva Mitchell, River Talk; Stories BY the river with Project facilitator Kellie O'Dempsey 2022. Residencies include S. A. Country Arts Land Arts of the Limestone Coast 2019, Float, Artist in Residency, Victoria 2020, House Conspiracy, Brisbane 2017, Hawaii University , Print media department residency, Honolulu 2016.
The artist acknowledges the Traditional Owners of the Land that is the area of her research and where the work was created.