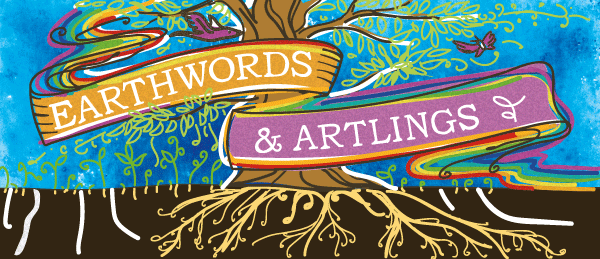 Welcome to AELA's Earth Arts Anthology
---
---
Submissions have now closed for the 2020 Earthwords Anthology. Thank you to everyone who has submitted work for consideration.
ABOUT THE ANTHOLOGY
Storytelling is as old as humanity, and in the 21st Century, stories are still our most powerful way to share our experiences, creativity, wisdom and inspiration.
AELA's mission is to increase the understanding and practical implementation of Earth centred governance, with a focus on law, economics, education, ethics and the arts. We believe that creativity plays a critical role in bringing about the profound cultural shift required to transform human governance systems from being anthropocentric, to becoming Earth centred.
The Earthwords and Artlings Anthology ('the Earthwords Anthology') provides a platform for emerging and established Australian creatives to exhibit work designed to reflect, lament, provoke, celebrate and challenge our ideas about ourselves and our relationships with other life and life supporting systems on our fragile planet.
Through the vehicle of the Anthology, we aim to prioritise the inclusion of a diverse range of voices and perspectives. We welcome submissions from First Nations peoples and Australians from all cultural backgrounds.
The theme for the debut Earthwords Anthology is Voices of Nature.
'Voices of Nature' is the theme of AELA's national biennial arts program in 2020, which will culminate in a week of art exhibitions and sound art projects around Australia (virtual and in person) from 12-18 October 2020, and will also feature the publication of Earthwords. For ideas and inspiration regarding the 'Voices of Nature' theme, please visit the 2020 Voices of Nature Themes page.
Submissions will be open from the 8th of May to the 2nd of August, 2020.
The Earthwords Anthology values and celebrates creative pieces that are optimistic and that reflect the hope, gratitude, wonder and possibility needed to envision a positive future for our planet. In saying this, we encourage creatives to explore the emotional complexities of earth-centred concepts, however, the Earthwords Anthology ultimately aims to be a space for the celebration of nature and the betterment of our earth.
For more information on how to contribute and the types of submissions we are accepting, please review the submission requirements (below).
For further enquiries, please contact: earthwords@earthlaws.org.au
SUBMISSION REQUIREMENTS
Theme
The Earthwords Anthology is inviting creatives to submit works that reflect and respond to the theme 'Voices of Nature'.
For ideas and inspiration regarding the 'Voices of Nature' theme, please visit the 2020 Voices of Nature Themes page.
We are interested in Australian prose, poetry, graphics and photography that:
Reflects, laments, provokes, celebrates and challenges our ideas about ourselves and our relationships with other life and life supporting systems on our fragile planet.
Explores our inner and outer worlds, our hopes, fears and impacts – and our efforts to influence each other to care for the living world.
Offers a voice for the voiceless, and expresses the perspectives of non-human life.
Explores earthlings through time – deep time, circular time, space-time, parallel time and being out of time.
Importantly, we're looking for creative work that espouses optimism, hope, gratitude, wonder and possibility. The Earthwords Anthology provides a space for the celebration of nature and the betterment of our future, and we highly value work that reflects these concepts.
---
Submission Formats
The Earthwords Anthology accepts the following works:
WORDS
Poetry (1-2 pages)
Short story (1500 words max)
Flash fiction (300-500 words)
Personal and lyric essay (1000 words max)
IMAGES
Photography (no larger than a two-page A4 spread, high definition)
Illustration (as above)
Graphic design (as above)
If you have something that doesn't fit snugly into one of these categories; please pitch it to us anyway! We'd love to check it out and see if it has a home in our pages, or those of our other Earth Arts projects.
---
Formatting
A detailed style guide can be accessed here: Style Guide.
When submitting your work, please follow these formatting guidelines:
Please submit any written work in a Microsoft Word document, 12pt font, Times New Roman, 1.5 spaced.
Please submit any photography/illustration/design work as a Google Drive link and ensure that it can be accessed through link sharing.
Please ensure that any images are submitted in either JPEG, PNG, or PDF format, and are of a high quality. For an image to be of a high enough quality for inclusion in the Anthology, its file size should ideally be greater than 6 MB.
Submissions must be consistent with the purpose and theme of the Anthology.
Contributors may submit up to two pieces of work for consideration, however only one piece of work will be published per author, per annual Anthology.
Editors will not publish anything that they consider defamatory or grossly offensive.
Submitted works must be original and unpublished.
Submissions must not infringe copyright. If you think your work may be at risk of infringing copyright laws, please provide written approval that you have been allowed to publish the work.
SUBMISSION PROCESS
How do I submit my work?
Submissions for the Earthwords Anthology have now closed.
The submission form will ask for your name as you would like it to appear with your work, the name of your organisation/affiliation (if applicable) and your email address.
As we use a blind review process to select works, please only provide your name, contact information and/or organisation in the submission form fields. DO NOT include your name or associated organisation in any part of your submitted Word document or on your submitted artwork.

We are more than happy to publish anonymously if you would prefer not to be named.
---
When do submissions close?
Submissions must be made by no later than midnight AEST (Australian Eastern Standard Time) on the 2nd August 2020.
---
When will I know if I've been accepted?
All submissions will be acknowledged by an 'auto-reply' when they are submitted via the online portal.
All contributing authors will be advised if their piece has been accepted or not, by 5pm AEST on the 23rd August 2020 at the latest.
---
I have a question, how do I get in touch?
If you have any questions, please feel free to email us at: earthwords@earthlaws.org.au
---
How will the works be selected?
The works will be selected by the Earthwords Anthology Managing Editors based on their quality and suitability to the theme. The Anthology editors will not know the details of contributors until after the works have been selected. This process has been chosen to ensure fairness and reduce bias in the selection process.
---
Will you be making any changes to my work?
By submitting your work to the Earthwords Anthology, you give the editors permission to perform minor edits such as spelling and grammar as part of the editing and publishing process. Any major edits will be discussed with contributors as necessary.
---
When will the Anthology be published?
The Earthwords Anthology will be published electronically and via limited print run, and will be launched during AELA's Rights of Nature week, 12-17 October 2020.
COPYRIGHT & LICENSING
Payment Transparency and Permission to Publish
The Australian Earth Laws Alliance is an unfunded organisation, wholly run by volunteers, including the team of the Earthwords Anthology. As such, we do not have the means to pay contributors to the Earthwords Anthology and you will not receive any payment or royalties for your submission entry or contribution to the Anthology. However, your contribution will be widely promoted to AELA's networks; both as part of the Anthology, and individually as an author / artist. In addition, a digital copy of the Anthology will be available for free download from the AELA website and all contributors will be properly acknowledged and credited for their work. Physical copies of the Anthology may be sold by AELA online or at future events for the purpose of fundraising. No individual will profit from the sale of the Anthology. By submitting your work as part of the AELA Anthology, you give AELA permission to publish your submission in both digital and physical form on the AELA website and at AELA events.
---
Licensing
The Earthwords Anthology is published under collective copyright and thus AELA remains the owner of the Anthology as a collective work. However, works within the Earthwords Anthology are published under a non-exclusive licence. This means individual pieces (both written and visual) remain the property of their creator. Under this arrangement, you may publish your anthology contribution on a personal blog or with other publishers following the release of Earthwords in October 2020, provided that you acknowledge your work was first published within the Earthwords Anthology. If you have further questions regarding the Earthwords Anthology's licencing agreement, please contact earthwords@earthlaws.org.au.
STYLE GUIDE
Tone
The Earthwords Anthology values and celebrates creative pieces that are optimistic and that reflect the hope, gratitude, wonder and possibility needed to envision a positive future for our planet. In saying this, we encourage creatives to explore the emotional complexities of earth-centred concepts, however, the Earthwords Anthology ultimately aims to be a space for the celebration of nature and the betterment of our earth.
---
Grammar
The Almighty Apostrophe:
Use a single apostrophe after an 's' to denote the possessive.

e.g. James' dog is super cute!

Apostrophes may not be used to pluralise a day of the week!

e.g. Ugh, I hate Mondays → CORRECT!
e.g. Ugh, I hate Monday's → INCORRECT!

Apostrophes may not be used to pluralise an acronym!

e.g. I sent out four SOSs → CORRECT!
e.g. I sent out four SOS's → INCORRECT!
---
Speech / Quotation Marks:
Use double quotation marks when writing speech.
Place all punctuation marks within quotation marks.

e.g. "I feel most alive when among the trees."

Include a semicolon before beginning a quote in the middle of a sentence.

e.g. Lilian stated; "What beautiful flowers, thank you."
---
Abbreviations and Acronyms:
Always write the name of the organisation / society you are referencing in full the first time you mention it. Afterwards, feel free to use their acronym, as your reader will already know what's going on.

FIRST MENTION: A report released by the Intergovernmental Panel on Climate Change (IPCC) on Tuesday revealed…
SECOND MENTION: Ilasha, a representative from the IPCC, said…

Abbreviations can be a fun way to add quirk and humour to your writing. Just make sure you use apostrophes correctly when doing so!

e.g. Tickets to our event are live now. Get 'em while they're hot.
e.g. How's it goin'?
---
America vs Australia:
Always use an 's' rather than a 'z'.

e.g. Organisation, not organization.

Don't forget the 'u'!

e.g. colour → CORRECT!
e.g. color → INCORRECT!
---
Capitalisation:
Capitalise words at the start of sentences.
Capitalise names and all proper nouns such as cities, countries, companies, religions and political parties.
Capitalise the first word of a quote.

e.g. When asked about the current state of the economy, Charli XCX said; "Honestly, I just want to go back to 1999."
Avoid random capitalisations in the Middle of sentences.

Capitalise days of the week, months and holidays, but not

e.g. Christmas, Easter, Monday, August, winter.
---
Contractions:
Contractions are allowed! Use them to evoke a casual, friendly tone.

e.g. You're, they're, didn't, don't, etc.
---
Exclamation Marks:
Also allowed, but in moderation! Try not to use two or more in a row, as the tone could shift from enthusiastic to panicked quite quickly! See what I mean! It's happening now!
---
Numbers:
This is honestly a case-by-case situation. If you feel that writing the number itself is more natural, then do so, and vice versa.

e.g. I was 16 when I first heard this album.
e.g. This is the third almond I've eaten today.

However, numbers over 3 digits need commas. This makes larger figures easy on the eye.

e.g. 1,000.
e.g. 150,000.
---
Parentheses (Brackets):
Always keep punctuation outside of brackets if you are ending a sentence.

e.g. My chair is pink (I repainted it).

However, keep punctuation inside of brackets if you are asking a question.

e.g. I love Dua Lipa (but when did I start listening to her music?).
---
Referencing:
Please reference any texts that you use explicitly. However, if your work is entirely fictional, there is no need to reference.
Vancouver is the preferred referencing style. This involves:

Intext reference using a superscript number which corresponds to a numbered reference list
The order of references in the reference list is thus determined by the order in which the referenced pieces appear in-text
In-text: Thunberg argues; "We must change almost everything in our current societies. The bigger your carbon footprint – the bigger your moral duty. The bigger your platform – the bigger your responsibility."1 (p7)
Reference list: 1. Thungberg G. No One Is Too Small to Make a Difference. 1st ed. United Kingdom: Penguin Press; 2019.
---
Full Stops:
Please don't use a double space after a full stop. A single space will do just fine!
---
ANTHOLOGY EDITORIAL TEAM
Dr Michelle Maloney, James Lee, Claudia Pilon-Summons, Ally Moulis
MANAGING EDITORS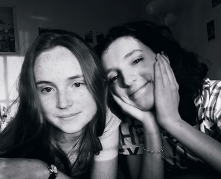 We would like to acknowledge the Gadigal People of the Eora Nation upon whose ancestral lands the Earth Arts Anthology is being developed. We would also like to pay our respects to elders past, present and emerging as the traditional custodians of knowledge and storytelling on this land. Sovereignty was never ceded.
Hi, we're Ally and Claudia – the co-editors of AELA's debut Earth Arts Anthology! We're best friends who studied together at university and quickly bonded over our mutual interests in environmental and social justice, storytelling, and environmental activism.
We began our engagement with AELA in 2019 when completing our Honours theses; Ally investigated the role of storytelling in motivating action on climate change, while Claudia interrogated the key barriers to Rights of Nature implementation in Australia. Although these projects were quite different, they both reflected our desire to motivate people to challenge the way they interact with the natural world by embracing a deeper and more emotional mode of engagement than is currently promoted by western systems of law and governance.
We knew that in order to achieve this, it would be vital to engage people's hearts, minds and imaginations. As such, we are beyond excited to have the opportunity to work with AELA to produce the Earthwords Anthology, and provide a platform for the emergence of earth-focused creativity!
If you would like to know more about Claudia and Ally, please visit www.linkedin.com/in/claudia-pilon-summons-826831163 to access Claudia's LinkedIn, and https://allymoulis.wixsite.com/website to view Ally's online portfolio.
If you'd like to get in touch, you can email Ally at ally@earthlaws.org.au or Claudia at claudia@earthlaws.org.au

Connect
Connect with the Earthwords Anthology through social media:
Submit
Submissions have now closed for the Earthwords Anthology.